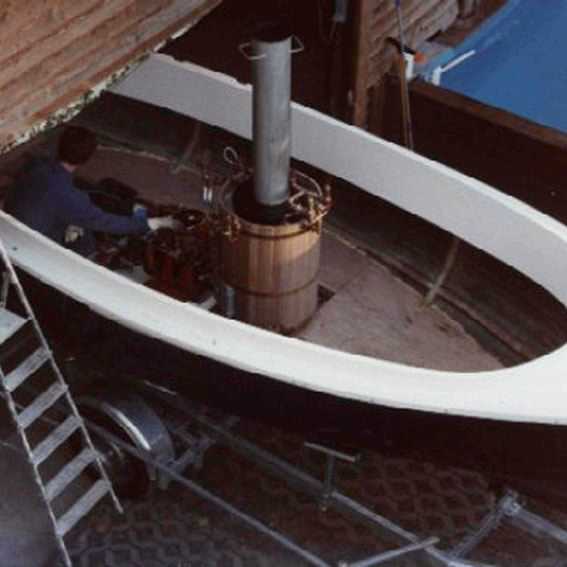 A ride on the steam powered ice breaker STETTIN in 1998 renewed an interest in steam started when I was a kid. My father had purchased a little toy steam plant for me, but when a friend of my father's saw the primitive Wilesco plant he decided to build a "real" steam engine. It is a beautiful single cylinder horizontal engine with an all brass boiler and I spent many happy hours with my father steaming "our toy"
In 1998 my father gave his grandsons a small steam tractor as a Christmas present. Only two months later, the boys and I went to a nearby large steam fair. I happened to see a steamboat called STEPHANIE - all brass and mahogany. That boat was a boy's dream come true! The scenery just like that in Captain Nemo's NAUTILUS from Walt Disney's famous picture. But I decided
to start "small" with a little radio controlled model. After I finished it (somehow) I tested it, and discovered it was no "cure" for my "illness". I worked through the "yellow pages" and, after a phone call, had a date with the Steam Launch VAPOROSA and Mr. Strothjohann. I was entranced. This is what I wanted to have! Euphoria blew away any sensible considerations

I - very quickly - found Rainer Radow´s homepage on the web.
(Without the help of the internet I would not have been able to move so fast.)

Then came the time when the parts - gathered from all over Europe and the US were put together. This page will show how it all turned out


Picture to the left: first sea trial in July, 2000.

The engine:
2 cyl. compound, B2 by Bernt Breding , and assembled by Tomas Blomström
both of Sweden
3-3/8" + 5-7/8" x 3-1/4", approx. 5HP @ 400rpm and 117psi steam
Stephenson Link. Propeller 19-5/8" x 29-1/2" from Breding
The boiler:
VFT with water leg. Typ HF Maskiner , Sweden
welded steel shell
169 0.8" tubes, 48sq.ft. heating surface

grate area 2sq.ft.

working pressure 175psi

Miscellaneous fittings
feed and vacuum pumps by Hypro, toothed belt drive from prop. shaft

steam lines 1/2" steel pipe

other piping 1/2"i.d. copper, keel condenser 1+" x 14+'

old, used steam gauge

How the bilges and hotwell looked after the first trial in my barn.
As there was no water to cool the keel condenser, the exhaust steam splahed
the water in the hotwell over everything
.
My steamboat was now "broken-in.
I lagged the boiler with wooden "roll blind" (typical in German housing construction). The slats are held together with a hidden chain. The entire lagging is easily removed in one piece! The smokestack is 7" dia.stainless steel pipe, the outer casing of 7-7/8" dia seamless brass pipe. I hope that the gap between the two pieces is large enough to keep the outer casing
cool
.
The smokecone cover will be made in England.
The Main Steam Gauge is from the famous Weser Werft, Bremen. The reflex
water glass provided by AVL Machine Works.

All other fittings are from a local dealer of house heating supplies.